Creating a unique menu for your restaurant can be difficult. However, it's easy to create a profitable gourmet restaurant menu using White Toque's wholesale frozen food products. Find inspiration for your restaurant menus with our exclusive appetizer, entrée, and dessert recipes.
Didier Hevin : Corporate Chef
Chef Didier Hevin has been employed by White Toque for 8 years. He graduated from L'Ecole Hotelière and served as a Pastry apprentice in Auvergne for 1 year. Chef Hevin has an extensive international background as a chef in Switzerland, France, Greece and the UK.  Chef Hevin has equally exemplified his culinary savvy aboard cruise ships and as a private chef on a yacht in the Caribbean.  In France Chef Hevin served as chef in an upscale Parisian restaurant. Chef Hevin is very skilled at evolving recipes with our product manufacturers to fit North American tastes. Chef Hevin establishes recipes that we demonstrate in our store classes (recipe cards, schedule).
Featured Recipes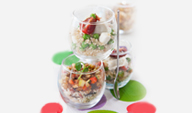 Verrine with quinoa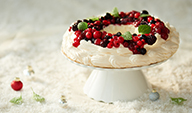 Red Fruits Pavlova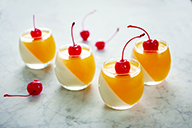 Panna Cotta Verrine